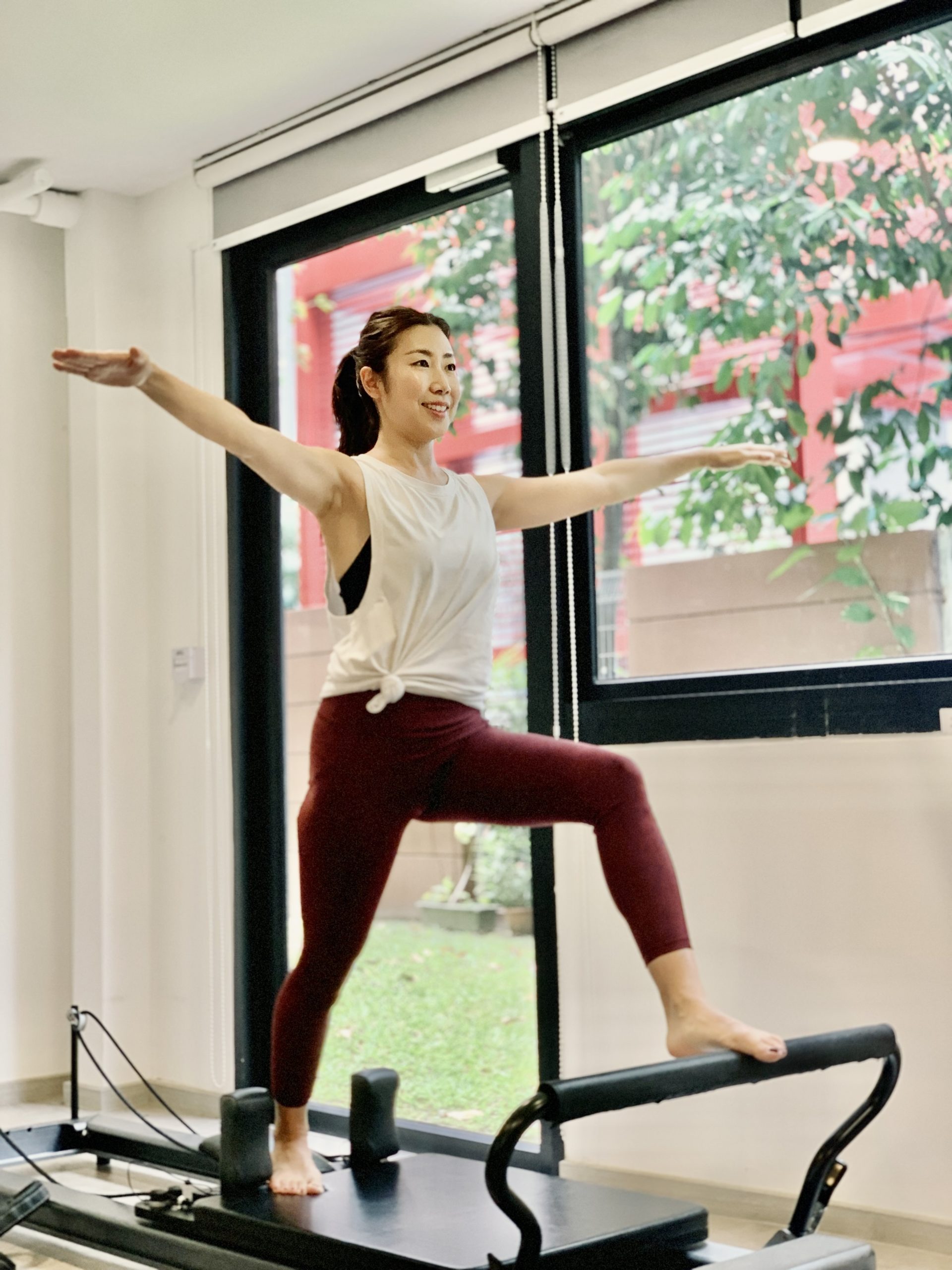 Movement is Essential.
Movement Heals.
We are passionate about movement simply because it brings you better health
– physically, mentally and even spiritually.
You can be healed through movement.
Let us help you connect the dots in your health journey and guide you towards achieving transformative outcomes.
Join us for Pilates, GYROTONIC® and HIIT sessions.
Promotions & Workshops
at The Moving Body
What Our Clients Are Saying
"I went to The Moving Body Group to seek rehabilitation after a muscle injury. Each session was very well programmed and she made me feel comfortable and at ease. Great facilities and very friendly front desk staff.

T P
"Dearest Karina (Senior Instructor), it has been so so lovely to train with you for the past 4 years. You've rehabilitated me at my most injured/ sore and I've always enjoyed the vibes we had together. May be our last session today as i'll need to train a lot more hours in the pool but I'll always remember you fondly when my coach tells me to pike, candle, table top, tighten my core/ glutes/ close my ribs etc. when I'm underwater.

With profuse love, hugs & thanks 🎀✨

C T
"I was looking for someone who could help me continue playing the sport I love - tennis, and I have been blessed to have found Kelvin.

After going through 3 knee surgeries which sidelined me for a long period of time, Kelvin has been instrumental in helping me increase my core strength, reduce my knee pains and allow me to go back on court playing tennis once again. He has a very positive and encouraging demeanour that makes the
Pilates workout enjoyable, pushing me harder to get the most out of the time I have with him.

If you are looking for someone who can help you improve your physical condition, I will strongly recommend you look for Kelvin. He has been
a gem for me.

Dr. O
"My sessions with Ann have been terrific! Since starting lessons with her, I have learnt to be more aware and mindful of my movements and how important the mind-body connection is. There is still a lots to work on, but I definitely feel I have progressed in terms of mobility and strength. I also love how every session is different and the variety of exercises that Ann plans for each session keeps me constantly feeling challenged. most importantly, I believe Ann truly cares about my progress and I feel extremely motivated at each session.

M L
"Kelvin has been my personal trainer at The Moving Body for about 10 years. When I first came to him, I was just recovering from a spinal surgery. For the last 10 years, he has helped me to strengthen my core muscles, treated my injuries and taught me many Pilates moves that have made me stronger and more nimble in my movements. My posture has also improved! I strongly recommend anyone wanting to embark on Pilates to start on this transformational journey!

Dr. J L
"The Moving Body not only caters to every single individual's needs but also ensures that they're being well taken care of. From the warm receptionists to the amazing physiotherapists, the environment at every TMB branch is inviting and lovely. Each session is carefully thought through and after each one, I leave feeling more confident and secure. With every session I see and feel improvement and progress to where I want to be. The therapy sessions have helped me so so much and I'm so thankful I decided to start my surgery recovery journey with them.

E K
"I began taking Pilates classes with Fiona in December 2019 at the recommendation of a doctor who felt that Pilates would help with my scoliosis, while complementing my run and strength training workouts.

Because I love running, I always believed that muscle tightness is just something I have to live with. Since beginning classes with Fiona, she has shown me that I don't have to live with muscle tightness and pain. Fiona is an amazing instructor, she has taught me how to stretch effectively with no pain and improve my flexibility and even running form.

I appreciate that Fiona checks in with me at the beginning of each class before proceeding to cater the workout to address any stiffness, body aches or muscle tightness that I might be feeling that day. Fiona is knowledgeable and attentive, and her classes are always diverse and adequately challenging. I would highly recommend her!

K K
"Since I started 1-on-1 sessions with Fiona in August 2020, I have regained my interest in Pilates reformer. I like how she provides workouts that challenge me - with her impressive professionalism and knowledge. I am grateful to be under her guidance as she has helped me gradually understand my body better.

M L
"My little family of three, have been joining virtual classes with Aparna. My husband and I both do purely Mat, and he also has private tele-physio sessions. My 10-year-old son joins Kidz Pilates, and whilst he finds it challenging, it has helped him continue developing his strength and mobility fitness for competitive tennis during his time off the court. Aparna has been amazing in teaching all three of us across the board, adapting and modifying wherever we need it!

K
"I enjoyed Ana's class today. The movements were clearly articulated with concise instructions on areas to focus. While challenging, the movements were 'executable'. I had a complete and satisfying workout today.

C N
"We attend a variety of classes such as Power Reformer, GYROTONIC, MOTR/Reformer, and other Reformer classes. We like the variety of classes offered across all 3 studios locations.

A C and F T
"Received excellent physiotherapy to address cramps and tightness all around my body.

R
"I enjoy going to GYROTONIC classes at the studio. The studio is clean, organised and the equipments well maintained. Friendly and knowledgeable instructor.

A L